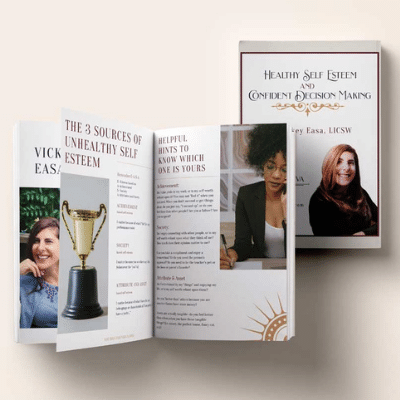 So, how do you get started learning how to get your self-esteem to a healthy place so you can make more confident decisions? Start with my free guide!
I'm here to guide you on your path to healthy, balanced self-esteem. I'm providing LOADS of free content—on this website, in my guide, and on my social media channels—because I am passionate about helping people love themselves, make better decisions, and feel good doing it!
First, you can get my free ebook guide by signing up for my email list above. I'll be sending you a link to the guide, as well as some stories, tips, and insights to help you begin doing this work. Be sure to check out my blog and my YouTube channel, as well.
And if you're ready to fully launch into seeing yourself and others through a healthier lens—a lens where you can feel GOOD about yourself and use proper boundaries with others—then let's work together. I provide personalized coaching packages to help you achieve deep transformation!
Get ready to learn to confidently make decisions WITHOUT second-guessing yourself!